Editors' Note: This issue's Posts were written by students at Encore Academy, a performing arts school in Warrenton. In response to our call for submissions related to memory, teacher Lauren Mallett assigned her classes of fourth to twelfth graders to write about what they hope to remember and what they hope to forget about the pandemic. You can also hear audio of the students reading their work on the upcoming September 2022 episode of The Detour.

I got COVID. I pushed through. It smelled like sickness. It tasted like medicine. I felt my bed—it sounded like home. I was online-schooled for a while. My horse died. Me and my family planned a trip to Disney, but it was canceled. Two of my cats died.
I want to remember my nephew was born. I want to remember school and friends. It is so fun to learn with nice teachers. I also want to remember I got two cats.You need the bad for the good—it is okay to be sad. You can be sad and happy at the same time.
–Cera Baker

Let's take it back to spring 2021. Since the big lockdown, my dance studio and I couldn't compete at any competitions. Masks were required, and it was rough. Then we got the chance to compete again. Dancers performed in blocks of three to four studios at a time, which isn't how it normally is. But it was better than nothing.
It was May 2, and Spotlight came to the Seaside Convention Center. Nerves and excitement filled my body. I competed two routines: my tap solo to "We Didn't Start The Fire" by Billy Joel and my jazz funk small group routine to "Levitating" by Dua Lipa.
It was time to head backstage. It felt so weird to be competing again. A few routines before we were on, my group—including my friends Torin, Emily, Josie and Bella—had a mini pep-talk together. We just shared positive vibes and kept saying, "We are gonna get Diamond." At this competition, Diamond is the highest adjudication you can get.
After we were done performing, holy crap, did it feel good, and the day kept getting better and better. After getting offstage from my solo, it felt pretty good, too! It's a feeling that brings me so much joy.
Then it's time for awards. It wasn't like a normal awards ceremony where all the studios sit on the stage. It was just our studio out in the lobby. They called my solo routine: Ruby! That's the second highest adjudication you can get. Then they called my small group: DIAMOND! Omg, the tears of joy. We were all so proud. That was my first diamond EVER, so definitely a moment I took to heart.
Afterwards, my friends and I went to downtown Seaside. We went to the beach and played in the waves; it was very cold. We got bagels from Bagels By The Sea for lunch. Yummy. And we also went to the aquarium. The smell of fish, the feel of sea creatures—it was so much fun.
That day was so amazing and a highlight of mine because it was a day of "we got this, we deserved this" and was such a good bonding time with my friends.
Looking back on the life I lived during this pandemic, there isn't anything I'd want to forget. As this was a tough time, believe me, it has also helped me to grow in many ways.
Being in lockdown and not seeing people was hard. Then when I did get to see people, connections grew stronger. Also, having to finish eighth grade online was a struggle. After not dancing for so long, it made me have more passion than I did before. This pandemic also helped me to make independent decisions and prepare for high school. I even made the choice to get vaccinated.
As things started opening up, I really thought things would be getting back to normal. Until like two weeks later, a new variant comes in. Lame. Masks were a definite lowlight, but I learned to live with them and currently the mask mandate is lifted and that feels amazing.
I honestly feel I've made the best memories over this pandemic: starting to dance again, seeing my friends and family, traveling, etc. Let's not say forget. Let's say I lived, learned, and moved on.
–Kaysi Flicker

During the pandemic, sad things and happy things happened. I know I want to remember the beginning of the pandemic, because that's when I got my rabbit. I also want to remember my friends and I going to Great Wolf Lodge. Even though we had to wear masks, it was still fun because I got to spend time with my friends. The pandemic made me pretty sad, so I got myself into music.
I heard "Dynamite" on the radio and asked my mom who it was. She said it was BTS. At the time I couldn't think of why a band would name themselves three letters. Then I started to listen to more of their music. I loved them so much that I listened to them all day and all night. But then fast forward to now: I listen to BTS so much. I went to look for more bands and found Stray Kids. I love Stray Kids now and my favorite songs are "Miroh," "Maniac," "Domino," "Charmer," and "Booster." My favorite members are Han Jisung, Hwang Hyanjin, and Lee Felix.
During the pandemic, my rabbit died. The sight of him made me cry and I only had him for three months. I hope he is happy where he is now. I lost a few friends due to COVID. My dad lost touch with their parents so I never got to see them again. I also remember that my mom, dad, and I all got COVID. It wasn't fun, and I was kept at home for two weeks. My dog named Mac died at the beginning of Covid. I felt sad for a while, but I got over it. Now I have a job. I get to watch dogs, and I get paid for it. I love the job, because I love dogs. When I look at one of the dogs, I think of Felix from Stray Kids because of her bangs. I remember when I couldn't hang out with one of my friends because her grandma got COVID. I felt sad for my best friend when she had to put one of her dogs down. I also felt bad for her because her horse died, too. For a while I started listening to sad music like "Criminal" and "Lo$er=L♡ver." These are some things I want to forget during the pandemic.
–Mika Dyebar-Stinnett

I don't remember a lot from the pandemic because every day was really just the same. I'd wake up at 12 p.m. and stay in my bed for the whole day because there was no point in me getting up.
But, to be honest, I loved it! I didn't have to do anything, I could just stay in my bed day in and day out just binge watching practically everything on Netflix. That was the life. Also, without the pandemic I would still be at public school and have to listen to the latest drama: girls being toxic to other girls, boys are turning on other boys,that stupid stuff.
Luckily I'm now not listening to that stuff anymore. I would like to talk about how COVID changed me as a person. My personality was pretty rough before COVID started. I was the kid who was annoying and loud, and I thought those two things = funny but they obviously didn't. I also cared about what people thought about me. I always wanted to fit in, but my personality was never meant for that stuff. Clothing was another issue. My sense of style was really bad. What I wore for the first day of school in fifth grade was jeans, sandals, and a pink long sleeve shirt. Yeah, it was pretty bad.
So I hope you liked my essay about part of my life, and I would just like to say your life may have ups and downs, but without the downs you would never get to appreciate the ups.
–Alora Duggan

What I want to remember about the pandemic is switching schools. I liked switching schools, because at my old school it wasn't fun like Encore Academy is. At my old school, it was quiet, and a lot of people were mean to each other. At my new school it's loud, fun, and everybody is silly. I made a lot of new friends at my new school, and no one was mean to each other. I felt happy at my new school, even when I was wearing a mask. It's a dance school. I love my new teachers and friends. The pandemic wasn't just bad. It was good, too.
There are a lot of things that I want to forget about the pandemic. One main thing is not seeing my family members. When the pandemic started, everything smelled like Clorox wipes! We went into our field a lot in the pandemic. We shared our field with our Grandpa and Grandma. So once we were in the field, and we saw them. But we couldn't give them a hug because we had to be six feet apart. We talked to them but could not go near them. This made me sad because we were not able to go close to them. I love hugging my Grandpa and Grandma! That was one thing I want to forget about the pandemic.
–Audrey Bangs

Ten years from now there will be things I want to remember. But not just exciting things like Christmas presents or eating cake. I want to remember the things that were really special, like meeting new people that really changed my life for the better and not for the worse.
During the pandemic I got a puppy. Before that I wanted a horse. Then I realized how much work a horse is. When we first tried to get a puppy, the whole litter died, so we had to wait a whole year to get one. When we finally did it was the happiest feeling ever.
Another thing that happened during the pandemic was moving to a new school. At my old school it was really hard to focus so I could barely get anything done. But when I tell you that my new school is the best, I'm not just saying it—I'm meaning it. Everybody here is so kind and friendly. Even though I have a big class, I still have time to do my work and have fun while doing it.
Most of this I want to remember, but some not so much. My litter of puppies dying is one example of something I wish to forget. But if the bad things didn't happen I wouldn't be as happy as I am now. So maybe it's not that bad.
–Avery Martin

What I want to forget is masks, those uncomfortable things people used to put on their faces. Another thing I want to forget is the smell of disinfecting wipes. People used disinfecting wipes all day. The last thing I want to forget is getting sick: having a cough, an upset stomach, sneezing all day.
Are we finally done with this unfun, no-good pandemic? My dad had to work so many hours of overtime, and my mom was pushing through. My dad is sick of the masks, and so is my mom. But my mom still says, "Come on, it will be fun!"
What I want to remember are my friends, who I still got to hang out with. I got to be with my family. The last thing I want to forget is that I felt sad, and the reason I want to forget is that it was a hard time for everyone. But everyone was pushing through.
–Dani Tappert
What I want to remember from the pandemic is the friendships that became stronger between my friends and I, along with meeting new people. We would play games and build forts out of mats and blankets. One person who I met during the pandemic taught our group of friends how to play a card game called speed. After we learned how to play, it was something that we played nonstop. We would turn the lights off in our classroom and be able to see the lights of our computer screens as we worked on homework. I want to remember these moments because sometimes they don't last forever.
I want to forget about the masks that people had to wear during the pandemic: not being able to see people's faces, not knowing if they're smiling because they're happy, or frowning because they're upset. People being rude to one another for their decisions to wear a mask or not; and if you're not wearing a mask, not being able to go into some buildings. It might help keep people safe, but there are still people out in the world that get sick while wearing them. Overall, I just don't want to remember this time of having to wear a mask because I feel like it changed how people treated one another.
–Abbie Larson

What I'd like to remember of the pandemic was the experience as a whole. Living through the pandemic was something I never thought would occur during my life. I would not necessarily say I'm glad it happened, but I definitely think that it will be an interesting part of my life. I remember a lot of the difficulties the pandemic has caused and the ways I was able to overcome them. Online school helped me to better understand the ways I learn best. During quarantine it became more clear to me that human interactions are the way that society is able to bind together. The pandemic was an overall tragic event, but also an opportunity to learn.
The scene I would like to share from my life is when I was doing online school on the computer. I was skimming through the assignments and not paying much attention to what the topics were. All that really mattered was that the daily tasks were completed.
After finishing a question from a class, I had a realization that hit me like a brick: I wasn't learning anything. In reality, it may not seem that extreme, but during that moment I was overcome by a sad guilt. The whole end of sixth grade to the end of seventh, I felt as though I had learned nothing. Every day was the same: skip through the lesson, and answer with the solution you found online. It was too easy to be considered school. This specifically is what I'd like to forget about the pandemic—being aware that I hadn't been expanding my knowledge. In some ways, however, I'm glad I had that experience. I didn't technically learn nothing; I was able to learn my preferences, and now I'll know how to better adapt in those situations.
–Simone Miller

In the years of COVID, there are things that I want to forget and remember. I want to remember how if I hadn't come to Encore, I wouldn't be here now, and I wouldn't have the life I have. I would have gone a whole different way. I also want to remember the feel of a soft pair of pj's and hot chocolate. I want to forget the struggle of online school. I wasn't getting the education I needed.
–Lily Peel

What I want to remember is that I got to hang out with my family a lot, and it was really fun. I felt like I missed my friends, and I also felt sad that I couldn't go to school. But the one thing that I want to remember forever is that my baby cousin went camping for the first time, and it was so fun. Now what I want to forget is that my brother broke his arm, and I felt scared. My mom was, too. The thing I want to forget the most is that my grandpa had a heart attack, and it was on an airplane. It was scary. He is okay now. My family and I planned a trip to Hawaii, but it got canceled, and we were really sad about that. The other thing is that I was camping, and I was riding my bike, and I fell and split my knee open. But I am okay now.
–Paisley Anderson

You know that feeling when you jump in the water and it feels like you're floating? Then you hit the water, and it gets up your nose. June, 9th, 2020: online school hadn't been going well, and the teachers were still adjusting to this new way of teaching. I was a seventh grader at the time, and I had stopped caring. My normal A's and B's (never below) had quickly dropped. This didn't bother me, though, because instead of my Zoom classes, I would swim and play at the lake. I had no worries. My grades were bad but never terrible; I still sort of passed. After summer ended, I continued online school. I would hang out with friends and forget about school until the day before the quarter ended, but I never worried. I didn't have to make excuses because adults made them for me: "Oh it's a hard time for everyone. We understand." I never want to forget the floating feeling when you jump.
I do want to forget when you hit the water. It can sting, then you slowly sink to the bottom. Starting up high school was like hitting the water. It stung. I felt like I adapted quickly, little did I know I was slowly sinking. Then one of my teachers pulled me aside and said I was not doing all of my work and I needed to try harder. This was the worst feeling. So now everyday is a battle–trying to balance personal life and trying to complete all of my school work. Everyday I feel like I'm walking on eggshells trying not to get in trouble again.
–Emma H.

There is so much to forget and remember about the pandemic. First, some amazing things have happened to me these past years. I moved to Astoria. I remember it was the Fourth of July, and we were setting off fireworks. It smelled smoky. It was almost like we were celebrating our first day in Astoria. It is really special because my family is here: my grandparents, aunts and uncles, and my own family. I was waiting for years to move here. I am finally here!
Another great thing that has happened to me during the pandemic is that I moved schools. I know what you are thinking: that sounds horrible or I'm so sorry. Well, actually, it's not horrible. Now I go to an amazing school! Everyone is nice, kind, and understanding.
What's even better is that it's a school that includes dance! I fell in love with dance at Encore. Now I dance so much everyday. Who needs recess when you have dance?
Although some of the best things happened to me during the pandemic, a lot of bad stuff did, too. First, Zoom classes. I like Zoom if it's only temporary. You get to stay at home, eat snacks whenever you want, and finish school early! But online classes for half of a year is not fun. You get a lot of homework, only a little free time, and sometimes it's longer than a regular school day. Plus, you start to miss your friends.
Also, masks, because I can barely breathe in them, and they tug and pull on my ears. They sometimes get annoying, too. Anyways, that concludes my memory project on what I want to remember and forget about the pandemic!
–Maddie Case

The scene from my pandemic life that I want to forget is the unnecessary fights with my brother. I want to forget the conflicts and quarrels we had and the tears we both cried.
I want to forget how stir-crazy I went from being home all day long. I want to forget my Language Arts teacher who purposely failed me. And lastly, the memory that I want to forget most is all the panic I had over this whole pandemic.
What I would like to remember from the pandemic are the good parts: the joy that came with the bad, the driveway hangouts, baking bread, and social studies "Kahoots." I have learned that there is no such thing as all good and all bad. And sure, the good memories might be clouded by the bad memories' judgment, but we still have them. I want to remember what my family built together: the treehouse and the picnic table. Memory to me is one of the most important things in the world. We all need them. While writing this I learned that memory is our past, present, and future.
–Bailey Jones

My memory of COVID-19 is that me and my family had to move from Portland to Gearhart. The smell of cleaner and sanititzer made me sneeze. The memory of not being able to see people's faces or go places. I did like being home with my family. We got to be around one another more. I get to go to a fun new school because of the pandemic.
I want to forget all the times my connection was lost in a Zoom meeting. I want to forget all the homework I had to do in an hour. I want to forget all the times I cried.
–Liliana Patton

I think realizing what was actually happening and everything being taken away so quickly were the worst parts of the pandemic for me. I believe it was in March 2020. I was going to public school with my good friends, getting ready for competition with my dance team, and I was pretty happy.
I first heard about COVID-19 after an OMSI field trip with my class. I remember on the trip that our teachers were telling us to use lots of hand sanitizer and be careful crowding in large groups. I didn't think much of this, but a few days later my school completely closed down. My dance studio stopped classes and competitions were canceled, along with our recital coming up in June. Everyone was told to stay home, so I couldn't see any of my family or friends. I felt out of control. I remember hearing "Two weeks, we should be back in two weeks." So I reminded myself through the confusion and uncertainty that it wouldn't last long.
Hospitals began filling up, people were getting very sick. Months went by, and it felt like it just kept getting worse. I want to forget this time because it was so scary and heartbreaking. It was heartbreaking to see families separated and loved ones pass away. It was scary to wonder what the pandemic could turn into. It was so hard to accept that our lives would probably never be the same again. I am so thankful that today I get to see all my family and friends again. We finally get to live our lives, even if it's not the same as it used to be.
What would I like to remember from the pandemic? One amazing moment that I'd like to remember actually occurred just the other night. It was time for my dance team to showcase our piece at the Liberty Theater in Astoria. It was a dance extravaganza!
I sat in the theater to watch the first half until it was our time to perform. It was the first time in nearly two years I had been in such a packed audience without masks. The crowd was full of people who loved to watch dance. They were energetic and excited. I could feel it. The dancers came onstage (no masks) and were ready to share the gift of performing that they had missed so much. They soaked up the presence of the audience, and their smiles showed how grateful they were to be on stage. I watched as the loud hype music flowed into my ears. In that moment, I realized how much I had missed just a regular performance. And I realized that we should all be so thankful to be together. Living our lives, together.
–Isabella Poe

What I remember in the pandemic is when I got the vax. When I got it, I felt like there was a light at the end of the tunnel. It feels like you got out of the bubble that you were in. I will go on a trip and not take the COVID-19 test when I am sick.
The next thing is winning first place two times for my solo. My solo was "Uptown Girl" by Billy Joel. I got the BIG Trophy, and it was amazing. Felt like that feeling inside of me was so happy.
Just one thing: I felt like I could just feel COVID-19 in my hands.
One time in the beginning of the pandemic, I was hearing a lot of things about sixty-five and older being at high risk. I was just so glad my parents comforted me because I was really nervous. My grandparents are sixty-five and older, and I really don't want them to die. So I was comforted, and that's what I really love about my family: they comfort me when I'm sad or sick.
I think that COVID-19 taught me a lot of things. One of those things is to trust what people are saying.
What I do not want to remember is when you can just smell the Clorox wipes in the air. When I got the news that I could not see my friend, and when I could not go to the dance studio. My dance recital was online. Just the sound of the hospital—I couldn't imagine. Doing schoolwork online. I just wanted to go to my Grandma and Grandpa's but I could not. I could never make plans for tomorrow. It was hard, but I played with my two cats. I had to move, which was really hard but COVID-19 taught me a lot.
–Lucy Palenske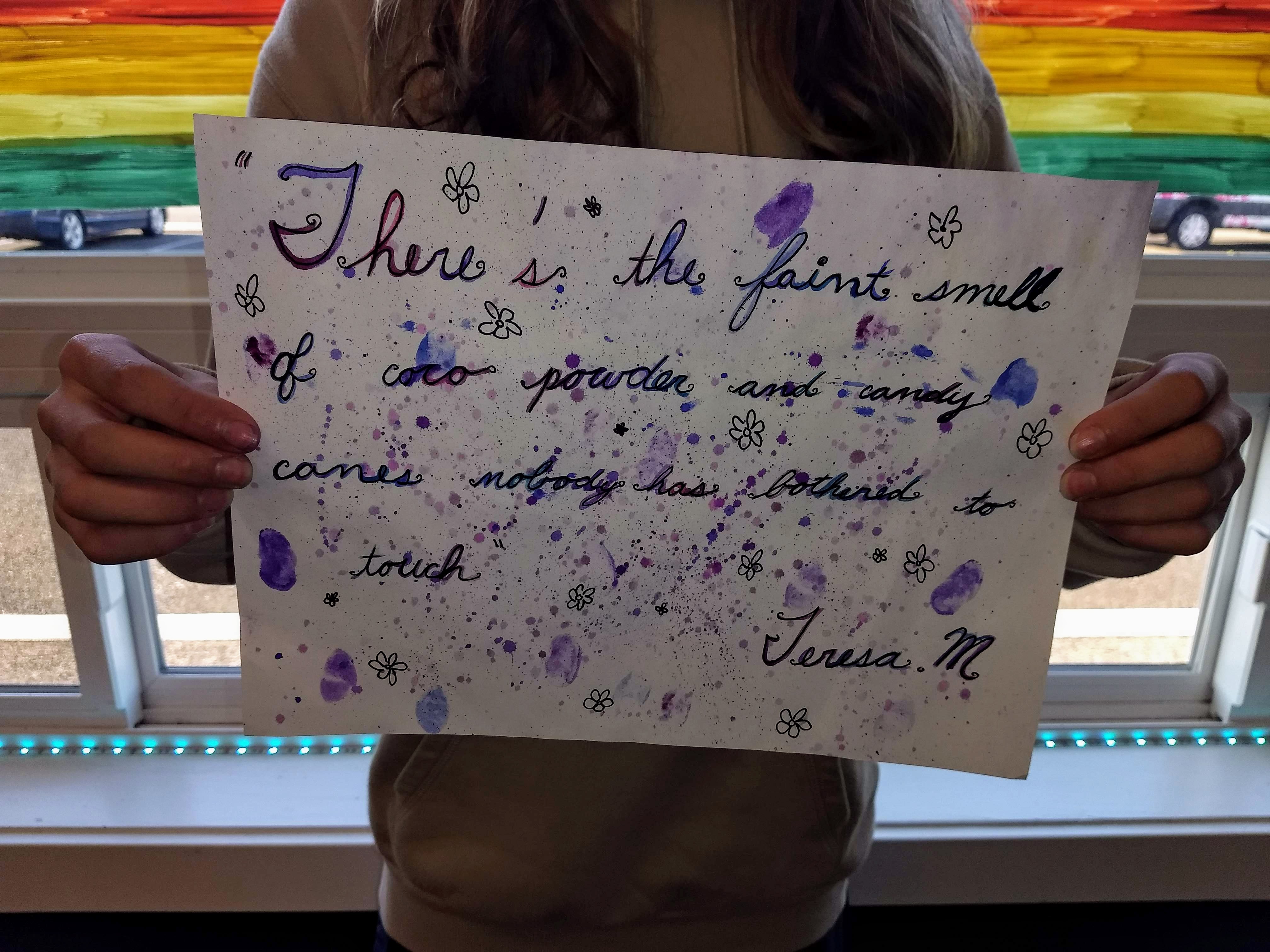 It's Christmas Eve, and the tree still isn't up. My siblings and I are sick, and it doesn't feel like Christmas. I hear the clanking of a spoon as my mother makes tea for my little brother's throat. There's the faint smell of cocoa powder and candy canes nobody has bothered to touch. My six-year-old sister is crying in the corner of the couch. It's our first Christmas in the new house, and it isn't going very well.
A few hours later, Dad gets home. It's dark out now. He and Mom talk in low voices in the hallway and then come back into the living room. Dad tells my three brothers to get on their shoes and jackets and to head out to the garage.
"Why?" they ask.
My dad doesn't answer their question. He just tells them to get their stuff on.
My little sister cries out, "What's going on?"
My mom calms her down, and my dad says, "We're putting the tree up." My little sister lets out an excited squeal.
A little while later, we have all the parts of the Christmas tree in the living room. It's a fake tree, but my siblings and I are so happy that we're putting it up, we don't care. We set up the tree and put the ornaments on. My little sister asks if we can put the candy canes on the tree. My little brother asks if we can have hot cocoa. My mom says yes to both. My siblings hang the candy canes on the tree while I make hot cocoa for everyone. Everyone is laughing now.
And I think to myself that maybe this Christmas won't be that bad. The only problem is that there won't be any snow.
The next morning, it snows.
–Teresa Middlemore

Our minds are bottles of soda with some memories bubbling over. For this writing, I was asked what I wanted to remember and forget about the quarantine. To be honest, I wouldn't want to forget anything. As much as forgetting might spare you from painful memories, forgetting is inevitable; so I make sure to cherish all the valuable memories in life. Every warm smile, every uncontrollable laugh, every belted song, every stomp in a puddle, every late-night drive with the heater on, every branch flung back at my face, every crashing wave on the shore, every fresh-baked batch of cookies. I have experienced grief, dread, disappointment, and moments of disgust, but the joyful moments sparkle in my memory like Christmas lights burning away my negative emotions.
When remembering the early pandemic, it is easy to remember the anxiety I felt for my loved ones, but that's not what I want to reflect on. The quarantine gave me lots of time to become more aware of the world around me. One of my fondest memories is when I was struck by the lightning rod of gratitude.
The fresh smell of spring flowers was strong in the air. The sun was beaming on my skin and sent a familiar warmth through me. That afternoon, I had convinced my twin to walk to the beach with me. Even though it was spring, we still wore sweatshirts to combat the Oregon breeze. I was so happy to not have to lie to my Zoom P.E. teacher about getting exercise that day.
We started our march to the beach. We talked about everything and nothing—just the things we were interested in at that time. The roaring sea and the fishy smell grew stronger as we continued. No matter how many times I see the ocean of blue that stretches as far as the eye can see, it gives me a feeling of comfort I can't describe. You can always count on the tide, one wave rolling in after the other.
My sibling screeched at the temperature of the water. Once our feet went numb, we were able to splash around, carefree. We were shivering and shaking from the cold, but there was no chance you could shake off our smiles. Just then, the bright sun that had been beaming was covered by a big dark cloud. My twin and I ran back to our stuff as a sprinkle of rain turned into huge droplets, pelting us. The rapid winds flung sharp sand. We were still laughing and screaming as we shook our wet hair out of our eyes. Our feet flew, daring to run faster than ever before up that big sand hill. Sheer adrenaline made the whole experience hilarious. I've never felt more alive.
We made it home and our mom looked at us with her mouth parted in shock. It was only then that I realized how red my hands and face were. I felt so content and grateful walking into our warm, familiar house.
Although the quarantine was a challenge, I would never in a million years want to forget it. People are sculpted by their memories, good and bad. The hardships you have been through make you stronger. Don't throw your bitter memories to the sea, for they are treasure. Those memories make you human.
–Chantrell Lee

The scene from my life that I'd like to share is when I was in my first year of being a counselor in 4-H. Ever since I became a counselor, I have had so much to learn about becoming a better leader. Being a counselor has had such an impact on my life. It has also taught me how to be honest and kind to others around me.
Being a counselor has taught me how to show animals and make money off the animals. Showing sheep and pigs is more difficult than others think. When I step into the arena, I get that feeling of butterflies in my stomach.
When the pandemic started, we all knew that it was unexpected and had to realize that these kinds of things happen. We all have to just go with it. When it ends, it ends; when we come back, we come back. Just know that we are back and ready to put the show on the road and show the community what we can do.
–Josie Morinville
It is the year 2020. The schools have closed their doors, people are in masks, and the cleaning supply shelves are empty. A lot of people are stressing out over this pandemic. But honestly, I would say I am lucky. My best friend and I hang out almost every day; I basically live at her house. We are at her house, outside on her trampoline. It is so sunny outside, and all you can smell is the warm breeze and the bright green grass. And we spend hours outside where there is no smell of cleaning supplies and no people with masks on. I remember my best friend and I, outside, enjoying the breeze.
The scene from my life I'd like to share is when my parents got a divorce during the pandemic. My mom picked me up from a friend's house early in the morning. When I first got in the car, I noticed that she seemed a little down. I didn't know why. Once I got home, my parents said that they wanted to talk to me and my siblings. I have a younger brother and a younger sister. They brought us into the living room and we all sat down. My mom looked across the room at my dad.
"Do you want to tell them?" my mom asked, tearing up.
"Yeah, I'll tell them," my dad replied. "Your mother and I are getting a divorce."
—Emily N.
Let's forget the lost friendships. After leaving my old school for a new one, because of the pandemic, it caused me to lose a lot of friends. Since I was no longer seeing them, all of the friends I made at my old school floated away. I remember meeting up with some of these friends on Halloween. One friend who I was closest to didn't even talk to me. I remember feeling really hurt that she had so easily pushed me away. We completely stopped talking after that and fell out of touch. I sometimes have a feeling of regret for switching schools because maybe I'd still be friends with this girl. But I know that everything happens for a reason, and maybe she was meant to leave my life. Maybe she wasn't someone worth spending my time on.
What I want to always remember from the pandemic is doing school in the tumbling room at Encore Dance Studio. After finishing our online schoolwork (sometimes), our days were mostly about playing games and making the most of this hard time. We experienced joy through recreating Wipeout, Among Us, and many more games. I got very close to these other girls who are now the most important people to me. We also got to dance throughout our day, which made that year even better. Despite the challenges, I honestly wouldn't trade these past few years for the world. They put me in the place I am now, for which I'm eternally grateful.
–Tyler Tappert

The pandemic wasn't bad for me. It was mostly good, but there are things I want to forget. I want to forget online school. I learned nothing. I sat down and stared at a computer screen in the morning. When I was done, I couldn't do a lot of things I would normally do. I couldn't go outside to play, go out for food, or see many of my friends. I was stuck inside with my mom and annoying little brother. I have a dad, but he went to work in the morning.
We had to clean a lot. The smell of the cleaning spray that my mom used was lavender. She liked it, but I hated it. I couldn't see any of my friends, except on Facetime. It wasn't the greatest, but it worked. I could text them and see their faces.
Many bad things happened during the pandemic, so you should remember the good things. What I want to remember about the pandemic is that my friends and family were there. When the pandemic happened, it was the end of the school year.
My class had to start Zoom meetings. It was hard to learn like that. I don't remember anything of what we did. But when I wasn't "learning", I was having a good time. I played with Legos and animals. I drew. I didn't get playdates or sleepovers during the pandemic so I lost a few friends, but I made new ones. Those friends that I made helped me. They comforted me when I was sad.
This is what I want to remember. We had to wear masks, and no one liked them. I didn't mind them because they made my face warm and comfortable.
Most of the pandemic was good for me, so I want to remember most of it.
–Joanna Hastings

Everyone in the world experienced COVID. It has been hard to watch the world fold into different directions we never thought it would. COVID hit the US when I was in fourth grade. At this moment of writing, I am in sixth.
It's easy to remember what we want to forget. Everything that feels sad, embarrassing, and has some spark of fury is stuck in your brain, unable to get out. COVID might be one of those instances. Everyone hates COVID because of the threat that it might kill the ones you love. You had to stay in your house unless you wanted to take the risk of making someone sick. The point here is that COVID is going to be stuck in my brain for the rest of my life.
I remember the start of COVID, when I was in fourth grade. I was not able to visit my grandparents after a long trip. I sprained my finger right before the shutdown and was not able to say goodbye to my friends. I was stuck with my siblings; although I love them, it was hard not getting a chance to be alone. I cried when a family dog died a little later. I cried when my cat died soon after, and following him went my bunny who had to be put down because of flystrike. All of this happened in the year that COVID hit. It was a fragile and tragic time for everyone. I remember crying night after night. I remember feeling lost, sad, and weak. I remember watching the rain clouds and hearing the thunder at night. I remember sitting on the porch and smelling the dew.
Still, COVID had us all wrapped in a way that was impossible to unfold. Even though I want to forget all of this, I'd rather not. COVID made me stronger and I want to pass this story on. Hopefully you would consider this and treasure both the good and bad.
–Shaelyn Bangs
Comments
No comments yet.
Add a Comment