We are excited to announce the recipients of the 2023 Community Storytelling Fellowship, which supports people who belong to communities that are underrepresented in Oregon media in sharing stories from those communities. The six fellowship projects will each receive $5,000, and stories will be presented in Oregon Humanities magazine, on the Oregon Humanities website, or on The Detour.
Oregon Humanities magazine and our other publications explore the ideas and experiences of Oregonians. The goal of this fellowship is to provide time and space for sharing stories and questions that might otherwise not be possible as part of our mission to connect people and communities to inspire understanding and collaborative change.
We hope the stories shared through this fellowship will allow more Oregonians to see their experiences represented, fill information gaps, and encourage readers to work toward a more inclusive and civically engaged state. We hope fellows will develop as storytellers and build connections within their communities.
This program is made possible thanks to generous support from the Ford Family Foundation.
2023 Stories
2023 Fellows
Melissa Bennett, M.Div. (Silverton) is a descendant of the Umatilla, Nimiipuu, Sac & Fox, and Anishinaabe Nations. She is a transracial adoptee, a.k.a. a Lost Bird, who grew up on an onion farm in rural Oregon. Melissa is a proud Native Auntie, a writer, storyteller, storylistener, educator, and spiritual care provider. She is the founder of Nnoshe's House, a virtual spiritual care space where people are invited to engage in meaning making and work toward deepening their spiritual lives. She frequently serves as a guest preacher, speaker, and workshop facilitator and is a member of the Macondo Writers Workshop, an association of socially engaged writers working to advance creativity, foster generosity, and serve community. With this fellowship, she plans to represent the voices of Native American adult transracial adoptees living in Oregon. You can find more about Melissa at melissalbennett.com or follow her on Instagram at @nnosheshouse or on Twitter @MelissaLBennett.
Derek DeForest (Ashland) is a writer, human rights advocate, and "noncompliant" psychiatric survivor living in Southern Oregon. In 2021, Derek was featured on OPB's Think Out Loud as a person with lived experience of voices and visions. He currently facilitates peer support groups for the Bear Creek Hearing Voices Network in Medford, and online for the Hearing Voices Network-USA. His writing has appeared in Lion's Roar, Mad in America, and Madness Network News. He has been featured in the Guardian and on the BBC. Derek will apply this fellowship to his work sharing the stories of those who experience voices and visions. To learn more about Hearing Voices Network groups in Southern Oregon, visit bearcreekhvn.org.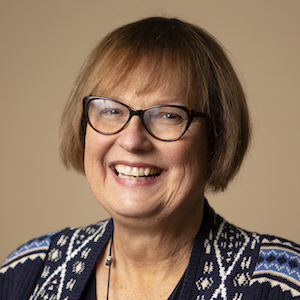 Stacey Rice (Portland) is a sixty-five-year-old transgender woman who found her way to Oregon from the Blue Ridge Mountains of North Carolina over ten years ago. She is a former executive co-director of Q Center, the largest LGBTQ+ community center in the Pacific Northwest, and was recognized by the Gay and Lesbian Archives of the Pacific Northwest as a Queer Hero for her work there and in the greater Portland community.
Stacey is featured in the documentary Who's on Top? LGBTQs Summit Mt. Hood, which profiles four LGBTQ+ community members sharing their stories of overcoming the mountains they have encountered literally and physically on their journeys. She is also a leader in advocating for the transgender community in Portland and beyond, consulting and providing workshops on LGBTQ+ diversity and inclusion with a special focus on transgender inclusion. She will use this fellowship to bring visibility to the experience of older LGBTQ+ Oregonians. You can learn more about Stacey at staceyrice.com.
Yanely Rivas is a working-class Xicana printmaker, cultural worker, and visual storyteller with ancestral roots amongst the mountains of so-called Michoacán, Mexico—lands traditionally steward by the P'urépecha. As an anti-imperialist and internationalist at heart, Yanely centers a vision of collective liberation and they engage their art practice as a mechanism to process, grieve, connect, document, honor, heal, and dream. She is guided by principles of community care and collaboration rooted in sacred ecosystems of human and nonhuman relationship. She has been involved in social justice movements for over a decade. They are finding joy in the ability to nurture their creative gifts and work with others to tend to Mother Earth. Yanely is currently dabbling in the world of comics and playing in new mediums. They will always call watercolor and printmaking home. She will use this fellowship to share stories about plant medicine and traditional foodways.
Ke-ash Ne-Asht Sheshatko (Thus named Red-Tailed Hawk) (Portland) is an enrolled member of the Klamath Tribes (Modoc, Hupa) born on the Warm Springs Reservation in Central Oregon. In his substance use recovery, Ke-ash began filmmaking as a creative outlet that deepened into a spiritual need. His filmmaking work now focuses on unrepresented voices. He trained in filmmaking at Open Signal Community Media Arts Center in Portland and has partnered with Regional Arts and Culture Council and Oregon Humanities. Through this fellowship, he plans to create a series of videos about the Klamath Tribes' language program.
Ana Maria Rodriguez is originally from Mexico City and has lived in Boardman, Oregon, since 2009 with her husband and three children. She has dedicated much time in her life to volunteering and currently works as a community organizer. As a Latina, she is proud of her roots and culture, which she promotes in the area where she lives. She has had the opportunity to work in different areas of agriculture, including two of the most difficult jobs in farming: planting and harvesting onions, both by hand. While working in agriculture, she has heard stories of the reasons people immigrate to the United States. She considers each story unique and believes that hearing them gives us the opportunity to better ourselves and our surroundings: some inspire us, others we identify with, and others make us reflect. She will use this fellowship to share those stories. Along with Nella Mae Parks and Rafael Romero, she is part of a project presented in both Spanish and English which will promote the voices of rural communities in Eastern Oregon and build solidarity across racial and cultural lines.
Nella Mae Parks was raised on a small family farm in Union County, where she still farms today. She earned a degree from Oregon State University in environmental science and has worked in rural natural resources and community organizing for almost fifteen years. Besides running the farm, she also works for Oregon Rural Action on environmental justice and writes for rural publications. She lives in Cove, Oregon with her husband and daughter and with her parents and lots of good friends and neighbors nearby. She loves to ride horses, climb rocks, gather people together, and explore wild places.
Rafael Romero and his family came to the US from Jalisco, Guadalajara, as agricultural workers when he was fourteen years old. He is the eldest son in his family and he has always worked in the fields. He attended school in Prosser, Washington, and worked part-time after graduating on the ranch where his parents worked. He also contributes his communication skills and experience working as a presenter of a public access television program, director of music videos, and, for the past ten years, as a local radio host for a station in the Tri-Cities. He has lost family members, including his brother and his grandparents. Rafael's mission is focused on letting people know that their lives are important and finding and developing resources that could not exist without hearing and seeing the needs of others. Rafael currently works at the same vegetable farm he worked at upon arriving from Mexico in addition to his work in radio and with Oregon Rural Action.
2022 Fellowship Recipients
Hector Flores (Talent)
Jennifer Perrine (Portland)
Bruce Poinsette (Tigard)
Tags
Civic Life
,
Community
,
Media and Journalism
,
Journalism
,
Statewide
,
Storytelling
Comments
No comments yet.