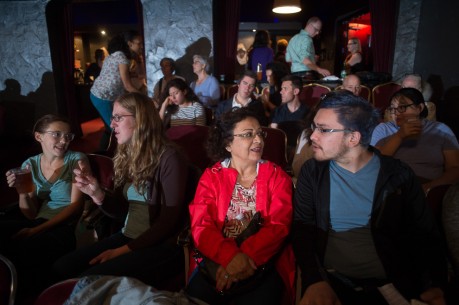 Our 2017 Think & Drink series asks big questions about the place where we live. Who owns it? Who gets to live on it? And who decides its future? Join us for live, onstage conversations with artists, activists, and other experts discussing ideas drawn from This Land, Oregon Humanities' upcoming online project that explores the connections between race, power, and place in Oregon through the work of photographers, filmmakers, and storytellers of color.
The series kicked off January 25 with a look at land ownership and belonging with Rhea Combs, curator of film and photography for the National Museum of African American History and Culture; Gwen Carr, chair of the research and education committee of Oregon Black Pioneers; and Melissa Lowery, director of the documentary Black Girl in Suburbia.
Our next event will look at the future of development in Portland on March 15, 2017. Read more.
Think & Drink conversations in 2017 will take place at the Alberta Rose Theatre on January 25, March 15, and May 17 from 6:30 to 8:00 p.m. There will be free food available after each event for those who want to keep the conversation going. The Alberta Rose is located at 3000 NE Alberta St. Minors are welcome when accompanied by an adult.
Tickets ($7.50 general admission, $10 preferred seating) are available now. Reserve your seat at albertarosetheatre.com.
Think & Drink is supported in part by a grant from the Oregon Cultural Trust: Oregonians investing in Oregon's arts, heritage, and humanities. We are also thankful for the support of our media sponsor, Willamette Week; our corporate sponsor, Tonkon Torp; and our community partners, Portland Housing Center, North Star Civic Foundation, City Club of Portland, Agora Journalism Center, and Oregon Black Pioneers.
Comments
No comments yet.
Add a Comment